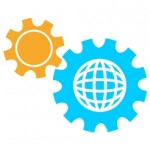 Summer School
on Development Cooperation
Summer School of Development Cooperation has been organized by the Department of Development Studies since 1997. The Summer School was the first of its kind in the central Europe and with its 18-year-old tradition belongs to the unique events in the Czech Republic in the field of development cooperation.
The main objective of this project is to raise awareness of high school and university students and public concerning Czech and International Development Cooperation and also to inspire audience, to raise their awareness and interest, and to support their active engagement in the field of development assistance in the future.
Speaking language of both summer schools is czech language.
Summer School on Development Cooperation for university students and public
6. 9. – 11. 9. 2015
For the last 17 years the Summer School has always taken place at Palacky University in Olomouc at the beginning of September. The program has included presentations, workshops, outdoor activities, exhibitions, discussions, movie evenings, and the NGO market, which is in particular focused on the participants´ future involvement in the field (volunteering, internships, fellows, etc.). Development cooperation is the main presented topic – from the perspective of various engaged stakeholders, such as NGOs, private companies, university teachers, ministry representatives and others. Majority of approximately 60 participants have been represented by both university students and wide public.
Summer School on Development Cooperation for high school students
21. 6. – 25. 6. 2015
This part of the project joined the Summer School during the year 2006. We have been trying to approach an increasing number of high school students every year to offer them to join (misto "to offer them" – with the offer to join) the competition and win this one-week stay in the beautiful and untouched nature of Vsetín highlands. The program is adapted to the audience and their expectations and thematically focused on global issues and challenges, development cooperation, humanitarian aid, environmental responsibility of communities and each year selected burning issues. The program doesn't contain only presentations from experts representing universities, NGOs, government, but also many workshops, outdoor and indoor activities, team work using principles of development and informal education supporting personal development and encourage their search for further knowledge.
 This project is funded by the Development Czech Agency – Development Cooperation of the Czech Republic and the Department of Development Studies.