Final Exams and Graduation Ceremony
Final Exams
Only students who have completed at least 120 credits and the minimum amount of credits from each block of subjects can apply for the Final Exams (see below). Students must apply for the Final Exams via portal.upol.cz at the beginning of the semester (the system of subscription is the same as for the subscribtion of subjects and exams during the studies). Students must also apply for a concrete date of exams via portal.upol.cz a few weeks before the Final Exams are held.
IDS blocks and minimum amounts of credits 

Compulsory courses: 76 credits
Compulsory options 1: at least 6 credits
Compulsory options 2: at least 12 credits
Compulsory options 3: at least 14 credits

FED blocks and minimum amounts of credits

Compulsory courses: 80 credits
Compulsory options 1: at least 6 credits
Compulsory options 2: at least 22 credits
The Final Exams are composed of four subjects. Each subject contains approximately 20 different topics. Each student draws one topic from each subject at the beginning of the exam. Once the student has drawn the four questions, they are given a 15-minute period in which the are allowed to use only pen/paper to organize and prepare. After the preparation period, the oral exam begins with each of the four questions taking approximately 10 minutes.
FED: Final Exams subjects and topics (TBA)
Graduation Ceremony
In a graduation ceremony, the student officially leaves Palacký University, taking the academic pledge and receiving a diploma which entitles him or her to use the academic degree.
Graduation ceremonies take place in the faculty building at the end of June or at the beginning of July for those who have successfully finished their studies* in June and in November for those who finish their studies in August. Graduation ceremonies feature university insignia and university officials wearing academic gowns.
In case that students leave the Czech Republic before the Graduation Ceremony, he/she can claim their diploma which entitles him/her to use an academic degree at the Study Department. The Study Department guarantees that this diploma can be ready for graduates within two weeks after his/her successfully completion of studies. However, it is important to note that the diploma cannot be sent to students via postal services.
For more information about the Graduation ceremony and related issues please contact Mrs. Dana Gronychová from the Study Deparment.
*Student must pass final exams and successfully defend his/her thesis in order to finish successfully his/her studies.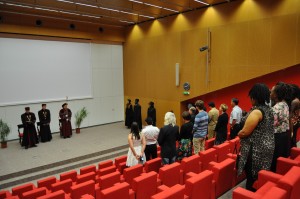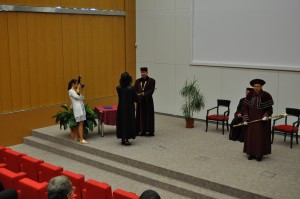 First graduation ceremony of IDS students was held in the building of Faculty of Science on 25 August 2016.